"Each day we are challenged to be a healthy soma in a body-phobic culture - to breathe, move, wiggle and hum with delight is our birthright and our destiny." - Jamie
"Jamie's workshops have felt spacious, light, tender and kind. I feel wholeheartedly nourished and closer to myself through his work. There is always something new I understand. I return home inspired and curious." – Clarissa, Artist and Teacher
"Jamie's teachings and technologies of amplification, slowing down, bringing in breath or sound, repeating micro movements that come from a felt inner sensing, or working with opposite impulses (to name just a few!) help to bring a more intimate relationship with what is alive in the moment and what maybe wants to be born." - Jeremy, psychotherapist

Somatic Expression Calendar

Shown are course start dates. Click on course title for complete information.
I am committed to making this work accessible and affordable to all, and have created financial policies and options to support that vision. Click here for policies.
The calendar is constantly being updated.
Contact Jamie to receive e-mail updates 2x/month.
May 2019
May 22: Bringing Spirit into Form
Berlin, Germany
May 24-26: Bringing Spirit into Form
Bern, Switzerland

May 31-June 9: Embodying Nature, Becoming Ourselves
Retreat and Training, Grenoble, France
June 2019

June 18-July 25: Thinking Body, Sensing Mind Livestream
Online Class 8-8:45am Pacific Time Tuesdays/Thursdays
August 2019
August 25: Introduction to Embodied Mindfulness Online
September 2019
September 7-15: Embodying Nature Creative Incubation Retreat
The Sea Ranch, CA
October 2019
October 19: Introduction to Embodied Mindfulness Online
October 20 & 27: Embodied Mindfulness Online
Module 1
October 26: Bringing Spirit into Form
Yoga Mendocino, Ukiah, CA
October 21-November 27: Thinking Body, Sensing Mind Livestream Online Class
8-8:45am Pacific Time Mondays/Wednesdays
November 2019
November 3, 10, 17 & 24: Embodied Mindfulness Online
Module 1
December 2019
December 7: Introduction to Embodied Mindfulness Online
December 8: Embodied Mindfulness Online Retreat
Module 1
December 14: "Acts of Faith" - Benefit Performance Salon for The Sunrise Movement, Wildcat Studio, Berkeley, CA
January 2020
January 20-February 26: Thinking Body, Sensing Mind Livestream Online Class
Mondays & Wednesdays 8-8:45am Pacific Time
February 2020
February 2, 9, 16, & 23: Embodied Mindfulness Online
Module 1
March 2020
March 1 & 8: Embodied Mindfulness Online
Module 1
March 16-April 22: Thinking Body, Sensing Mind Livestream Online Class, Mondays & Wednesdays 8-8:45am Pacific Time
May 2020
May 19-27: Embodying Nature, Becoming Ourselves
Grenoble, France

May 29-31: Bringing Spirit into Form
Toulouse, France
September 2020
September 10-17: Embodying Nature Creative Incubation Retreat The Sea Ranch, CA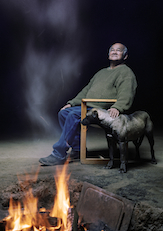 photo by Rick Chapman